Life in the suburbs: the good, the bad and the ugly
What is suburbia really like? The Guardian asked their readers to share their experiences of it - and got responses from Perth to Brighton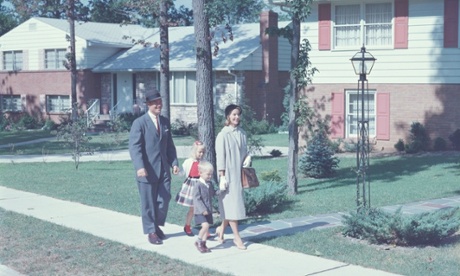 The suburban dream? Photograph: H. Armstrong Roberts/Retrofile/Getty Images
Last week The Guardian asked you to share your experiences of living in the suburbs, whether it was something you loved or loathed. From Mumbai to Manchester, you showed us a glimpse into suburban life, where quiet streets set the stage for locally loved businesses, graffiti ... and the odd cat.
Mumbai, India
Noon silhouettes
Walking down one of many small streets in the Bandra suburb of Mumbai, India.
Brighton, UK
Woodingdean , Sussex
Perth, Australia
Suburbia on a Sixties' Sunday
My older siblings in their Sunday best, probably on their way to church.
Leyland, UK
Beyond the Sofa
A view from my living room in the suburbs of Leyland. The town's mainly suburban, having quickly expanded in the Nineteen-Twenties and Thirties when Leyland Motors established itself. The bland and uninspired houses in my drawing have pretty gardens bordering a river- and yes!! I do remember when it was all fields!...Continue Reading
> via The Guardian